Laissez les bon temps rouler – because it's time for Stanza's second annual Mardi Gras party. The extra special meal will be held March 3rd and kicks off at 6.30 p.m. sharp.
I had the pleasure of attending the inaugural meal last year, and it should come as no surprise (to those that know chef Jonathan LeBlanc's cooking) that it was a fabulous meal. Indeed, LeBlanc leaned into his Southern roots for the meal in more ways than one; during the meal he let slip the secret of a gloriously punchy gumbo – andouille shipped from back home courtesy of his father and the local butcher…
This year's event is another five course exploration of the Big Easy's culinary traditions whipped up with a dash of LeBlanc's creativity; the meal is also paired with suitable Louisiana-styled cocktails. The menu for the event this years is as follows:
Blue crab & corn bisque – roasted Poblano peppers, fresh corn, blue crab, new potato, sherry
French 75
Shrimp & tasso ham – wild Louisiana white shrimp, tasso ham, sweet onion-pepper jelly, pickled okra, Slap Ya Momma Hot Sauce beurre blanc
Blood Orange Daiquiri
Mardi hog tamale – crispy braised pork belly, chili pork boudin, cotija cheese, charred corn, avocado salsa verde
Hibiscus mezcal sour
Jambalaya stuffed quail – duroc bacon braised greens, roasted root vegetables, Grand Marnier & cognac jus
Classic sazerac
Southern pecan pie – vanilla bean gelato, Madagascar chocolate sauce, mascarpone cream, candied pecans
Brandy milk punch
Cost is $85 per person ($65 food / $20 drinks). Reservations are required and seating is limited. Here are some snaps from last year's event: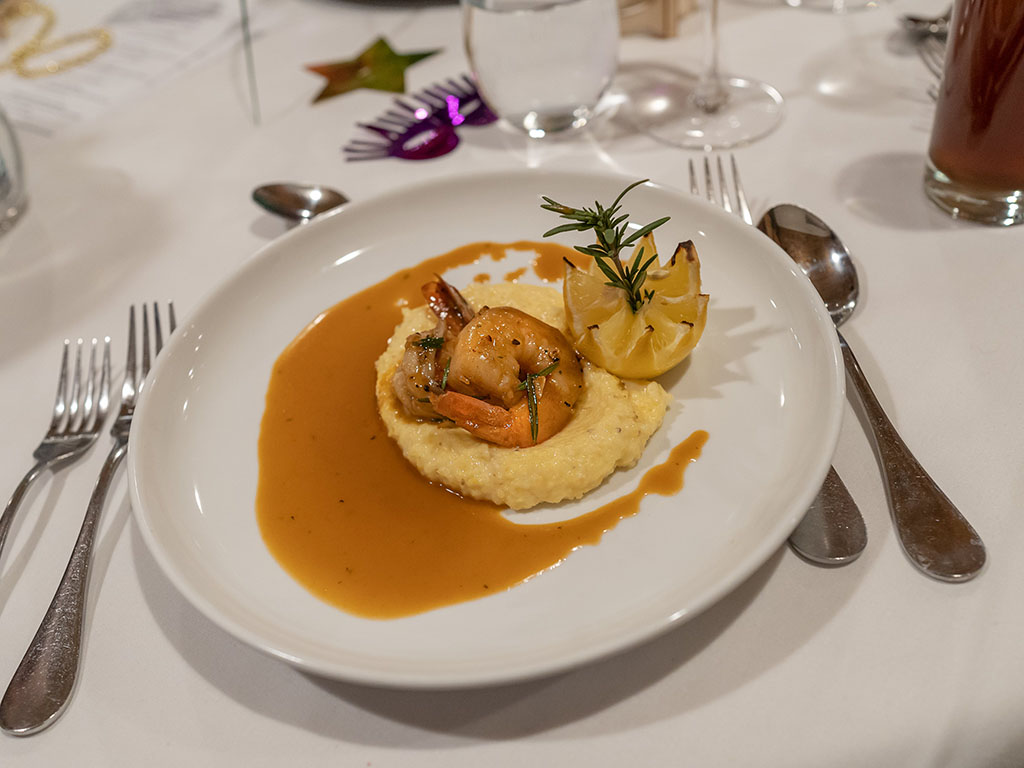 Proper beer dinner
If beer is more your pace, the next pairing dinner at Stratford Proper will be held on February 24th. The course course menu with unique cellar selections can be enjoyed in full, or just by the course.
Smoked beet carpaccio – pea gremolata, local goat cheese, marcona almonds
Hoppers Brewery La Nymphe Bier D'ete 2019
$10
Spanish octopus – crispy Spanish octopus, burnt garlic aioli, pepita vinaigrette, Frog Bench Farms micro greens
Uinta Crimson Tart 2018
$3
Traeger smoked elk, Winter chanterelles, demi glace, brocolli stems
Red Rock Reve 2017
$12
Lavender cream puff – pink peppercorn, diplomat cream, berries
Epic Oak & Orchard Rose Release #12
$10
Cost is $45 food and $35 for beer, or priced ala carte per course as listed above.
Table X
Lastly, Table X are still offering dinner for two to go, should you want to keep the part understandably in house for the time being. Right now the Millcreek eatery are offering a dinner that just needs heating and assembling, the menu is as follows:
Snuck Farm greens with Mahon cheese, marinated savoy cabbage, & sherry-mustard dressing
Morgan Valley Lamb & Jones Creek Beef shepard's pie, white cheddar mashed potatoes, winter vegetables
House salted chocolate chip & oatmeal raisins cookies
Cost is $80 (feeds two, instructions included) and can be ordered here.
In other news