Raise a glass, fork, spoon or indeed anything else that comes to hand quickly; lets just bid farewell to 2020 already. On the menu this year, it's slimmer pickings than recent years, but there are still a few seats around town if your . Here's a look at some of the best NYE dining options.
Porch
Four course menu with wine pairings, $65 (food only $40) menu:
Roasted tomato confit and Gournay cheese crostini
Starter choice of

Porch salad or
Ginger butternut soup

Main choice of

Wild mushroom barley risotto, pine nuts, truffle, gremolata
Prosciutto-wrapped salmon, miso cream cheese grits, fresh winter vegetable, fig balsamic glaze
Grilled pork tenderloin, roasted fingerling potatoes, winter vegetables, maple gastrique
Prime tRib, buttermilk whipped potatoes, winter vegetables, au jus

Dessert choice of

Famous Banana Puddin'
Carrot Cake, cream cheese chevre frosting, candied walnuts
Flourless Chocolate Decadence, salted caramel sauce
Stanza
Five course prix fixe, menu.
Starter choice of

Wintertime salad, Spring mix & frisee, red onion, apple slices, crisp 'prosciutto pine nuts pepitas and candy pecans, blue cheese champagne fennel vinaigrette
Shrimp & crab arancini, frisee, shaved fennel, red onion, artichoke 5 pepper jelly, arugula, marinated tomato lemon tarragon dill vinaigrette

Main choice of

Spicy pork ragu with red pepper torch kurobuta pork shoulder braised in Campari tomato broth rapini, crisp roasted garlic cloves, charred Fresno pepper, fried shallots
Spinach & red pepper tortellini, tartufo asiago tortellini, sundried tomato., Olted chicken pesto cream sauce fried lion's mane mushroom, cranberry goat cheese quenelle roasted almonds and hazelnut

Blackberry sage sorbet
Choice of

Seared scallops, sweet com and poblano risotto, grilled asparagus, ',roc candy bacon Green onion and red pep, hay, alep, berme blanc
Ribeye cap, red new potato pontabla mash, wild mushrooms, green onion, cotto prosciutto broccolini with roasted garlic & parmesan, fig demi-glace

Dessert choice of

Classic tiramisu, Solstice chocolate, espresso sauce
Madagascar chocolate cheesecake, raspberry sauce, vanilla mascarpone cream, fresh berries
Pago
Five course tasting menu $95 plus $45 wine pairing, menu.
Amuse ruche of Yukon tots and caviar
Starter choice of

Broiled crab legs
Potato gnocchi
Crispy delicata squash

Intermezzo of whipped ricotta, honey comb, salt roasted pears
Main choice of

Pan seared scallops
Roasted duck breast
Potato agnolotti
Braised lamb shank

Dessert choice of

Bread pudding
Chocolate cremeaux
Key lime curd
Current Fish & Oyster
Four course menu, $80 per person, menu.
Starter choice of

Grilled oysters
Seared ahi
Local burrata

Choice of

House salad
Clam chowder
Beet & squash salad

Main choice of

Seared scallops
Caramelized organic salmon
Grilled swordfish
Kalbi short rib

Dessert choice of

Yuzu posset
Chocolate and beetroot cake
Gelato sundae
Tuscany
Four course menu, $135 per person, more details.
Starter hoice of

Cocoa braised duroc pork ribletts
Asiago baked oysters

Choice of

Wild mushroom bisque
Beet salad

Main choice of

Braised veal osso buco
8 oz. beef tenderloin stroganoff
Norwegian hzlibut oscar

Dessert choice of

Berry grape-ful
Tik-Tok chocolate clock
Finca
Four course tasting menu $75 plus $30 wine pairing, menu.
Welcome of warm olives & almonds
Tapas choice of

Roasted carrots
Sautéed prawns
Spanish ham & cheese fritter
Lamb, beef & pork meatballs

Main choice of

Rioja braised lamb shoulder
Salmon
Braised beef short rib
Paella

Dessert choice of
Others
Veneto – offering a six-course traditional NYE fish menu $275, plus $175 for optional wine pairings. Kimi's – live music and regular menu.
Keep your distance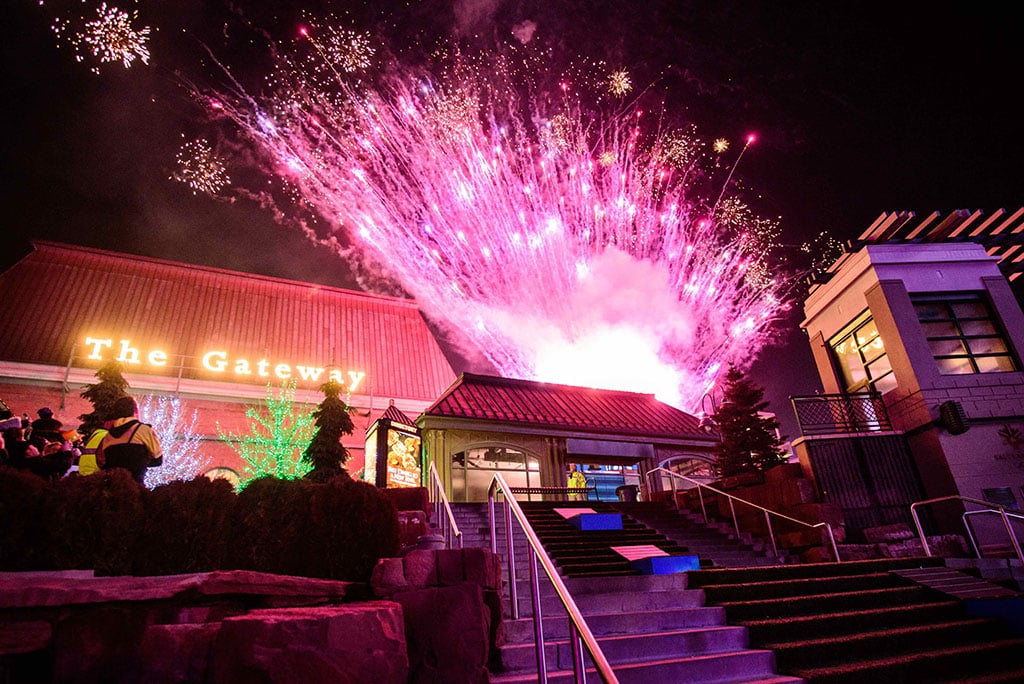 Or for something more informal, check out this years edition of The Last Hurrah at The Gateway. The event now in its fourth year is SLC's official New Years bash. While a select number of reserved spots are still available for attending in person – this year sees the whole shebang live-streamed for the ultimate in socially distanced celebrating.
The event will see a 45 minute pre-show to the countdown and fireworks featuring live music from The Cool presented by Social Antidote to kick off the virtual party. An array of prizes will be given out every 20 minutes to viewers online.
If you do stop by in person, plenty of places will be open for late dinner and snacks including include HallPass, Dave & Buster's, The Store, and Rocket Fizz. You can stream the event via LasthurrahSLC.com, AttheGateway.com and the YouTube Chanel – The Gateway.
New news
Taco Land – The space left empty by the departed Salvadoran Cafe Guanaco on the corner of 27th and 5th has been empty for a while now. That is until recently, the taco-centered Taco Land recently opened up shop. You can see the menu here which focuses on everything from tacos de guisado through to local specials like the Wasatch BBQ beef taco.
Rio Grande Cafe – This landmark restaurant temporarily shuttered some eight or nine months ago; but due to earthquake damage (so I hear) at the historic Rio Grande facility, it never re-opened – until now that is. These days the business is owned by the same group that runs the popular Porcupine. The return of the RGC sees the group close down the University Porcupine location and replace it with this
Review round-up
During a regular year, one of our reader favorites is the review roundup – a monthly recap of all the reviews hitting newsstands around town. For the most part I've shelved this regular recap, as reviews have been thin on the ground. It feels like its about time to bring this feature back though.
First up a trio of reviews by the late Mary Malouf: Nomad Eatery, Current Fish And Oyster and Nohm, the latter of which she takes umbrage at this piece. As I wrote on Facebook – a timely reminder that while we definitely didn't see eye to eye on every last subject, we had a helluva time laughing and debating why over a glass or three. Mary had a lot of time for Gastronomic SLC when others looked down their noses at the interloping 'blogger'. You'll never find trite words like nice, delicious, yummy or otherwise in her writing, something I try to emulate all the time. I hope I grow up to be half as talented.
In Utah Stories, Ted Scheffler checks out Yurt dining at St Regis, yours for only a $250 rental fee and minimum $1250 minimum dinner spend. The French fare over at  the new Brasserie 7452 seems more accessible for us mere mortals though, and it's nice to see more French stuff. Scheffler also writes about the comfort food charms of Woods Cross' Lorena's Mexican Restaurant and the Easterly migrated Nomad East.
In other news
Hi, I'm Stuart, nice to meet you!  I'm the founder, writer and wrangler at Gastronomic SLC and The Utah Review; I'm also a former restaurant critic of more than five years, working for the Salt Lake Tribune.  I've worked extensively with other local publications from Utah Stories through to Salt Lake Magazine and Visit Salt Lake.
I'm a multiple-award winning journalist and have covered the Utah dining scene for more than a decade.   I'm largely fueled by Uinta Cutthroat, alliteration and the use of too many big words I don't understand.  I ate all the pies.
This site is 100% free of intrusive third party ads through the generous headline sponsorship by The Gateway – SLC's premier entertainment destination.
This article may contain content provided by one of our Partners or Sponsors. These are some of the best businesses in Utah. The current businesses we work with include: Avenues Proper, BGR, Bourbon House, BTG Wine Bar, Caffe Molise, Cafe Niche, Campos Coffee, Current Fish & Oyster, Kyoto, Feldman's Deli, Log Haven, Oasis Cafe, Proper Burger, Proper Brewing Co, Saffron Valley, SLC Eatery,Stanza Italian Bistro, Taqueria 27, Whiskey Street, White Horse. For a list of all our past relationships and timelines, please see our historical partnerships page.